Important info first: My daughter is now 5 months old and she is not breastfed. She is on baby formula. It is slightly different with breastfed babies.
When I was little I used to hate carrots. It was all mushy, no taste. And now at my 39 I am making my daughter eat the same stuff. 🙂 No wonder that she doesn't like carrots. This is our story how my baby daughter started with the "solid" food.
?Baby Eli vs. Carrots?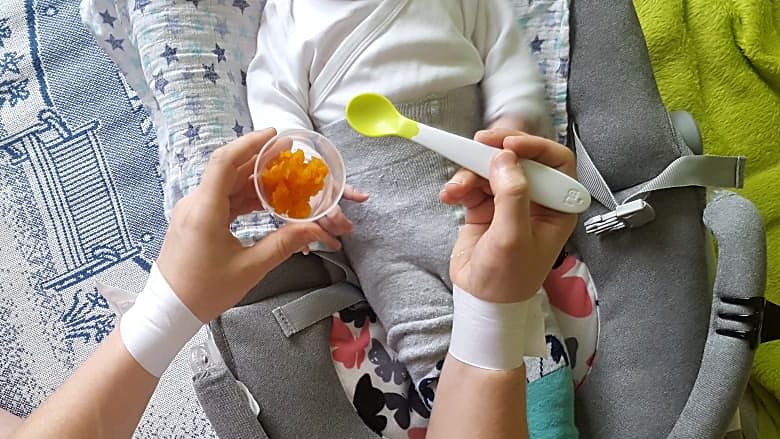 Day
? 😕
DAY 1
I mashed the carrot only by fork.
Oh oh, she gave me a disgusted look. Spitting, making faces. 🙂
As she literally moves her arms like wings I am dropping the mini portion into her napper. We don't have yet a regular seat.
1 : 0
DAY 2
I puréed the carrot so it is silky smooth
Spitting, making faces… but seems that it is slightly better
2 : 0
DAY 3
I added lots and lots of milk.
Not spitting but still protesting 😀 Crying for her milk.
3 : 0
DAY 4
I fed her after the lunch milk
She gave me a look "if you are not going to give me the milk first am gonna kill you". 😀 so I gave her milk first and then I gave her carrot with milk. It makes sense though. When I am really really hungry I don't want to experiment with anything new.
4 : 0
DAY 5
While feeding her I let her be distracted by my neighbor Julia
Eli watching Julia whom she hadn't seen for quite a while. It seems that Eli forgets about the bad taste and eats a tiny bit.

☝️ Julia gives me an important advice: Shove the spoon further into her throat 🙂 This is probably a crucial breakthrough.

Yay. She ate one full spoon.
4 : 1
DAY 6
I forgot to feed her carrot 🙂
–
?Baby Eli vs. Sweet potatoes ?
Day
? : ?
DAY 7
I was told to try a sweet potato purée with added milk.
BINGO!!! There is a slight smile on her face like she might like it. I feel like a hero. 😀

She ate 1 spoon
0 : 1
DAY 8
Sweet potato purée again
I had to feed her after the milk because just before the lunch I made her mad when I accidentally sprayed a nose spray into her eye. It is sea water, okay!!! Don't call the social security guys! 🙂

She ate 2 spoons
0 : 2
DAY 9
Sweet potato purée again

4 little spoons
0 : 3
DAY 10
Sweet potato purée
Making facing, crying…

"Why? Again? The purée is so delicious. Mommy knows it, she wouldn't tell anything that is not true"
When I taste the purée I think, okay, maybe 5 spoons of butter, salt, pepper might do it! 😀

Later I realized she was not hungry 🙂 but I was persuaded that she was. It will be much easier when she talks. Also much harder cause she can talk back.

1 spoon only
1 : 3
DAY 11
Sweet potato purée rocks. ?
Hooray. 10 spoons. I would call it "She ate". Finally 🙂
Opening her little mouth, wanting more.
1 : 4
DAY 12
Sweet potato purée rocks only when Eli rocks. 🙂
It was a total disaster. ? I am losing my mind…
2 : 4
DAY 13
Sweet potato purée in front of an audience – grand parents Ha, she digs it like crazy 🙂 Yahooo!
2 : 5
Well, that's how we are fighting the vegetables.
A sweet potato with added milk works.

Now I gotta add some carrot and mix it. Wish us luck!

Have you experienced this first time meal horror?
Please write me in comments below the post how many days it took you when your lovely child started eating. 🙂 Thanks.
What do you need to make a first baby meal?
The pediatrician advised, start with carrots.
Well, so you need obviously cooked carrots and a blender. 🙂

Now I feel like a pro 😀 but I had many doubts in my head.. like "I hope I peeled the potatoes enough so there is no dirt left 😀 ", "I hope the pot is washed properly", "Is the dishes I use safe for her food to put on"…
Eventually I said to myself "She needs to say hello to some germs, right?" so now I don't panic too much. 🙂
This is what I used:
Mini saucepan or pot – I use this pot only for her food
4 carrots at least so you actually have something to blend 🙂
A mini bowl or a mini glass jar – I used the lid of the old baby bottle, it worked fine, it only turned orange as many other things 😀
A mini baby spoon – it seems that the firm spoon worked better. But maybe it was a coincidence and the plastic one is fine as well. I tried both.
Blender
THE recipe
I cook the vegetable until very soft, then I blend it. Sometimes when it is too thick I add a little bit of water for infants and add some milk to remind the familiar taste.
Get ready for leftovers
There will be leftovers 🙂 Lot of leftovers. The baby eats a very tiny bit at the very beginning.
I put aside 1 or 2 extra portions for next day and I put the rest in IKEA plastic bags (5 spoons each bag and put it in a freezer). It is not the best way how to do it but hey, we all gotta start somewhere 😀
Later…
I bought 5 tiny containers with measuring units on.
The ready to eat option from supermarket
You don't need to cook anything and you can buy this food in a supermarket. As my daughter doesn't eat much yet I decided to cook for now. Later I will quite possibly buy some meal with meat and fish as cooking this would be pain in neck.
I fell in love with purées 🙂
I must say that the blended carrot wasn't bad at all.

Now I experiment with different kind of purées.
I tried carrot only, carrot and sweet potato, carrot and butternut squash…
It is easy and tasty.
If you want to lose some fat I recommend. 🙂
I like them all. You need just this:
Carrot – Butternut squash – Pumpkin – Sweet potato
Butter
Pepper
Salt
Milk to make it more creamier
The only thing that sucks is the peeling, especially the butternut squash.

I found a great recipe "Bright and Bold Carrot Purée" at the chefsteps.com.